Registration trouble? Please use the "Contact Us" link at the bottom right corner of the page and your issue will be resolved.

Dismiss Notice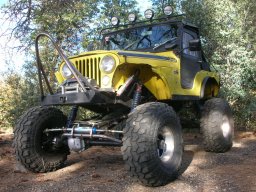 Gender:

Male

Location:

Occupation:

Welding Instructor, Flight Instructor
Loading...

Loading...

About

Gender:

Male

Location:

Occupation:

Welding Instructor, Flight Instructor

Year/Model:

1966 CJ-6

Drivetrain:

225, T86, D18

Axles:

27/44

Wheels/Tires:

15x8 white stealies with 28x9x15 Dune Traction tires from 1975

Name:

The POOP: Pile Of Outstanding Pride

Suspension:

Stock

I've been Jeep rebuilding, restoring, and modifying since 1992 with primary focus on CJ5s. Operated a 4x4 custom fabrication shop in N. Arizona for several years specializing in custom lift kits, axle swaps/rebuilds, and straight-axle conversions. My first car was a Baja yellow Renegade II edition '71 CJ5. That's where the problem began.

Interact

Signature

1966 CJ-6 Resto/mod, rebuilt 225/ T-86/D18 twin stick, Warn OD, D27/44 w/ 4.88s, restored Meyer full cab, fully rhino-lined body tub
1971 CJ-5 Renegade II, Grand Nat'l Turbocharger/intake manifold & Camaro TBI adapted to original 225 V6, SM420, D18 twin stick, Warn OD, self-built 5 lug 35 spline D61F/D60 5.38s, full hydro steer, 38.5 Swamper SXs, 4 link coilovers, home built 2x5 rectangle tubing chassis, dual winches, on board air, hand throttle from a Cessna 210, 3" exhaust
1977 J-20, 12V Cummins, TF727, divorced t-case, Rockwells with full hydro 4 wheel steering, 36" lift, 53" x 17" Michelin XZLs, train air horn

"If it ain't broke, fix it till it is!"
"Any tool can be the right tool" - Red Green

Loading...

Loading...